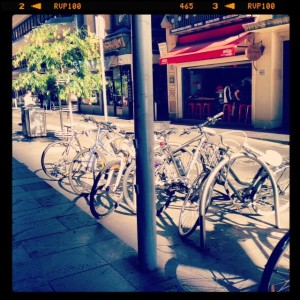 Karalyn here.
Hello and Happy New Year.
I don't generally talk about myself on this blog, because that's not what this is about.
However I assume you will read this as you'd like to make some change to your job search or career.
So, I'd like to share a few things about my experience with change that might help you make a move.
2014 was a time of big change for me.
I rented out my place in Sydney, after being unhappy there for 5 years.
I gave all of my house stuff to charity and friends and I moved to Melbourne to be closer to my family.
I ended significant relationships that were fundamentally dishonest.
I started restructuring my business to become more mobile and online (It's partly working. The pic is the view from my favourite working spot on Melbourne). This restructure has seen me work late into the night over many nights – sometimes wondering if there is any point to continuing when the whole world seemed to be out having wonderful weekends. 
In 2014 I have learned many things about change.
It's very messy and things don't happen in the neat order that they are supposed to.
I still have some big regrets about "what could have been" – and probably will have these for a while. This I think I can live with. Nostalgia is not reality.
The fear of change for me has been far greater than the impact of the change itself.
Making a break has given me confidence as I discovered just how resourceful I can be.
I also discovered how important good support is in making a change.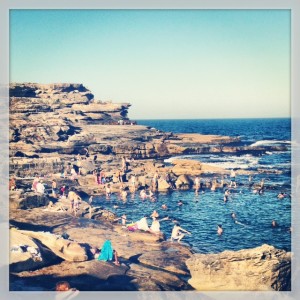 I took up swimming and meditation. Having some certainty and structure, even if it is only a regular morning routine, helped me a lot. (The pic is a view from my favourite swimming spot in Sydney.)
Support has also come from my good friends in this process. They have offered me an ear, a reality check and a boot up the backside when I have needed it.
That's what I'd like my blog and service offerings to be about this coming year – making change easier for people.
If you'd like to make a career/ job change and something has been holding you back, here's what I'd like you to do.
Email me and answer these two questions.
1)      Tell me what's been holding you back from finding a new job.
2)      Tell me what support I could offer on my blog.
Here's to a resourceful and a positive change-filled 2015.
Karalyn