If you're looking for Tuesday night's ABC radio podcast on how to get a job on LinkedIn, here it is.
Click this link here to get straight to the ABC site to access the podcast. (It opens a file on your computer).
Or you can find it here for the next month or so. ("Your Employment Profile": Podcast dated the 24/2/2015)
I had the very great pleasure of appearing on the Tony Delroy show, with my friend and long term partner in crime, Bronwyn Murphy.
Bronwyn is an experienced recruitment manager, trainer and operations manager. You can find her on LinkedIn here.
Here's what we covered:
– Is LinkedIn the first place you should go if you're looking for staff, or are there other/better alternatives
– How does LinkedIn actually work?
– Who is using LinkedIn to find a job?
– What should you put on LinkedIn to help you stand out in a crowded market place?
– If you are new to the site, how do you get started?
– What other sites can people use to find a job?
– Do your connections actually matter?
– What should you say if your boss finds you there?
– Are we seeing the end of the paper based resume?
Plus a whole lot more.
Listen up.
We had a lot of fun chatting.
If you have any questions about LinkedIn that you'd like me to cover on this blog, please drop me an email and let me know.
karalyn@interviewiq.com.au
Don't make insanely dumb mistakes on LinkedIn. Get our FREE report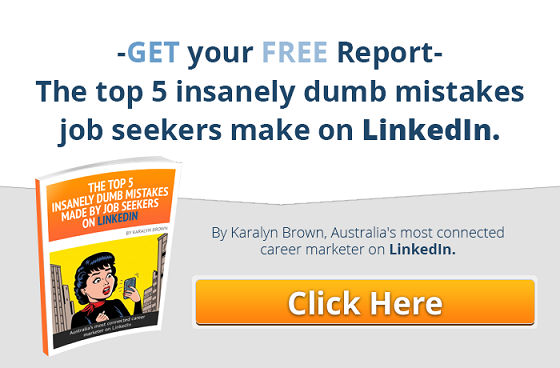 Click here >>> to get emailed the FREE report.
In this report you'll learn how to use LinkedIn more effectively and avoid the insanely dumb things people do when they don't know how to use LinkedIn effectively.
You'll get great tips on:
Avoiding the insanely dumb things people do when they don't know how to use LinkedIn
Tips on how to create a powerful LinkedIn profile that will stand out to attract recruiters, headhunters and employers
How to entice people to actually read all your LinkedIn profile to understand what you do, then seek to connect with you
How to stay visible in searches, with very little work on your part
Plus we'll also send you great LinkedIn tips and special offers emailed directly to you…
Click here to get this great FREE offer