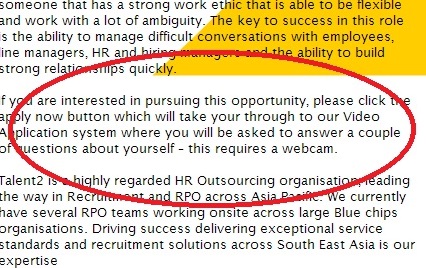 Everybody's been talking about the demise of the resume for a long time now.
Then this popped into my inbox.
Is this pointing to the end of the paper based resume as we know it?
There's quite a lot of debate about this.
Some people applaud the idea that it saves time from both ends.
Candidates can quickly video themselves and employers can essentially start screening interviews earlier on in the process.
Of course it raises issues of instant discrimination based on age/gender/appearance etc. And videos do favour the extroverted communicators of course.
What's a real worry for me is that we are all such visual people.
We pay much more attention to how the message is packaged, than the content of the message. Then we make judgments about whether we believe that message.
To give you an example, I play one of the videos I developed for my app to a few LinkedIn workshops I deliver. The video shows a graduate answering the question "tell me about yourself."
I ask workshop participants to focus on the detail of the applicant's answer. Consistently the first feedback I receive is that she "looked" nervous and shifty, and does not sound confident. Check the video out here.
Only when I prompt people to think about what she actually says, do they discuss the detail.
The thing I find really interesting is I have had feedback that candidates are really reluctant to use a video – which is weird in the age of "selfies."
If you're in the market or in the market for candidates, I'd love your thoughts on this.
Learn how to pick the questions interviewers will ask and get top preparation tips with this free e-book: "The Seven Deadly Sins To Avoid At Job Interview"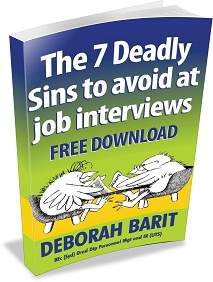 Deborah Barit wrote this book. She is one of Australia's leading interview coaches. It is packed full of easily actionable interview tips.
To get your free e-book and some of our best interview tips direct to your inbox, simply click on this link, and answer two survey questions about what makes waffle in interview. We'll then email you the book.
Here's what happy readers said about the e-book and interview tips:
"Deborah Barit is a very smart lady…She is good at figuring out what an employer is looking for. It's like she has ESP — with her help in preparing, I found no surprises in a recent interview and I was prepared for every question…." Cathy, Leichhardt
"Because I read so many of your posts, I feel as if you were my personal employment coach. I start my new position in two weeks. I had so many obstacles to overcome and each day you posted a solution to my dilemma and how to improve my search. Thank you so much for your input and PLEASE continue to do what you do!"
Click here to have the e-book emailed to you.