Yes you can get a job with no experience….
I write a lot on how to find a job. I talk a lot on how to find a job. I've helped a lot of people find jobs.
Over the past five years I've answered thousands of emails to CareerOne's "Ask Kate" from people desperate to find a job, when they have no experience.
Yet when a friend of mine, James Evangelidis, interviewed me for his blog and asked me: "what's the the number one thing people should do to to find a job if they have no experience?" I had to stop for a minute. Then I didn't say "get your resume in order."
I didn't say get your resume in order as the number one priority because if you don't have much experience a snappy resume will only take you so far.
You'll be competing with hundreds of equally snappy resumes.
You'll all make claims that sound the same on paper.
So how can you find a job with no experience?
There is no one right answer to how to get a job with no experience.
That's because there are actually a number of ways to find a job without experience. So I thought a few small case studies might help.
Here are four ways people have found a job without experience.
Case study 1. How an Indian engineering graduate found a job with no experience.
One client of mine was an engineering graduate.
He had solid marks and some university work experience with one of Australia's biggest miners. However he was  older than other graduates. He'd completed his masters and had a few years work experience in India. I suspected he wasn't having much luck as his background didn't quite fit the bill of "typical graduate."
He went door knocking. He picked a light industrial area, where there were small to medium sized businesses and where he knew that if he dropped in his resume to the receptionist, he was one level away from the owner. So he knew his resume would make it into the right hands. He found his first job as a draftsperson this way.
Case study 2. How a public servant found a job in HR with no experience.
Another client of mine had a long career in the public sector, then she went overseas.
She wanted to work in HR but had trouble convincing anyone that her public sector skills were transferable. Plus she felt that she was being labeled as someone from the "public sector."
She was sun baking at the beach one day and started to chat to the people next to her about what she had done. It turns out that they needed an HR Manager. The next week they interviewed her.
Case study 3. How someone who had a long break from the work force found a job with no experience.
A third client came to me a year ago.
She had had a long break from the workforce and spent a large part of that helping her child who had a disability. Her English was poor.
She was lacking in confidence, plus she wanted to work in accounting. This is a really tough ask without any experience.
This client volunteered in a tax agent's office, joined a few social groups and read heaps of English books. One year later she came back to see me. We then put the volunteer work on her resume as a "real job" and the tax agent gave her a glowing reference.
She applied for two professional public sector roles and was offered both.
Case study 4. If you have no experience tell people you are looking for a job.
James and I interviewed 25 Australian employers for our book" "What do employers really want?"
We asked them about the strangest way they'd recruited someone.
The  Director of one of Australia's biggest manufacturing successes said that she had hired one person from a bus stop and one person from a service station. Both of them had no experience and both are now in management roles within her company.
There's no simple moral to this story, but there are a few common themes.
All of the people I describe were active in ways that didn't directly relate to their job search.
They were happy to talk to people and tell them what they wanted. They look trustworthy. They didn't look like they'd sell their grandmother in her sleep 😉
My first client, by door knocking, was demonstrating things he could only ever claim to have on his resume – initiative and good communication skills.
My second client was an engaging listener.
My third client was prepared to do a number of things with one end goal, making herself more employable.
So if you do have no experience and you do need a job, one of the best things you can do is get out and get active.
Try to think of the ways your experience in the past can benefit your in the future.
If you have an iPhone download our new app, myPitch. There are real-life videos in there that show how you can pitch your experience to a potential employer in a very natural way.
Download myPitch here. The videos and examples that will be most relevant to you will be the graduate examples. Although they are coming from someone who is new to the work force, essentially they are good examples to anyone who wants to change direction.
Get ahead of the pack for your next interview? Download our free e-book!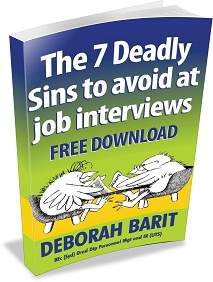 Deborah Barit wrote this book. She is one of Australia's leading interview coaches. It is packed full of easily actionable interview tips.
To get your free e-book and some of our best interview tips direct to your inbox, simply click on this link and answer a couple of quick survey questions about what makes you waffle in interviews. Easy as, hey!
Here's what happy readers said about the e-book and interview tips:
"Deborah Barit is a very smart lady…She is good at figuring out what an employer is looking for. It's like she has ESP — with her help in preparing, I found no surprises in a recent interview and I was prepared for every question…." Cathy, Leichhardt, NSW
"Because I read so many of your posts, I feel as if you were my personal employment coach. I start my new position in two weeks. I had so many obstacles to overcome and each day you posted a solution to my dilemma and how to improve my search. Thank you so much for your input and PLEASE continue to do what you do!"