One more thing that sets me RANTING is when I see people use third person on their LinkedIn profile.
I know a lot of career marketers talk about this, but it seems not many people are listening.
How do I know this?
In 2014 I did a deep dive into 200 profiles. I found that that 80% of people in this sample were guilty of this crime.
If you're not sure what I mean by third person, take a read of this snippet from a summary section.



So what's wrong with this?
When you write in third person you are creating distance between yourself and the reader. It's the online equivalent of having an assistant make your marketing calls.
If you are writing in third person to project confidence, it actually does the opposite of that. It sounds like you are not willing to own who you are and what you've done.
Here's that profile snippet in the first person.

Replacing the name with "I" is instantly more engaging – and "real."
It fits with the purpose of being on LinkedIn, which is you representing you.
There are many mistakes like these which mean that people are less likely to connect with you, or engage with you on LinkedIn.
It's no big news that LinkedIn is fast becoming the first place people look for staff.  What you may not realise is that its success has spawned a lot of other niche sites for different groups of industry professionals.
Like or loathe being online, these platforms are only going to get bigger. They provide a cheaper alternative to recruitment agencies and potentially create the platform for more direct conversations.
The market place is open, and we're all competing on a world stage for jobs. It is now a place where you need to own your space.
There are many other mistakes I see people make on LinkedIn – where people spam their contact list with generic emails, fill up groups with irrelevant information, have no detail in their profile and expect that people will say yes to an invitation to connect.
These mistakes that mean that people won't look at your LinkedIn profile – or say yes when you reach out to connect.
There are far more powerful ways to use LinkedIn as your primary marketing tool.
Many of my clients have successfully found roles using only LinkedIn. They've started that process with owning who they are and what they do.
Don't make insanely dumb mistakes on LinkedIn. Get our FREE report (Plus some bonus tips to help make you look like the superstar you are)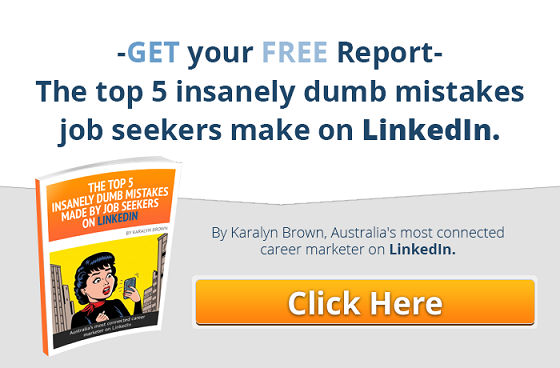 Click here >>> to get emailed the FREE report.
In this report you'll learn how to use LinkedIn more effectively and avoid the insanely dumb things people do when they don't know how to use LinkedIn effectively.
You'll get great tips on:
Avoiding the insanely dumb things people do when they don't know how to use LinkedIn
Tips on how to create a powerful LinkedIn profile that will stand out to attract recruiters, headhunters and employers
How to entice people to actually read all your LinkedIn profile to understand what you do, then seek to connect with you
How to stay visible in searches, with very little work on your part
Plus we'll also send you great LinkedIn tips and special offers emailed directly to you…