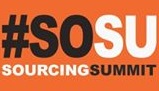 One of the biggest growth areas for InterviewIQ's services is the demand for LinkedIn profiles.
(We were actually one of the pioneers of LinkedIn profile writing and online branding in Australia – but that's a whole other story!)
Many talented people who are taking up this service, do so as they have a mind for future. They may not be actively looking for their next role, but they are certainly looking to be found.
So if you're looking to recruit talented team members to truly fit your business culture and values, you need to be doing a lot more than placing an advert online, crossing your fingers and hoping for the best.
This year's #SOSUAU summit looks at the rapidly changing world of sourcing talent.
From Boolean search strings to advanced search strategies and social recruiting, the event explores new trends, tools and techniques to find talent.
"#SOSUAU brings together some of the sharpest minds in sourcing – practitioners, thought-leaders, recruiters and trainers who are at the forefront of sourcing excellence in Australia and the globe."
This year's summit will be headlined by the lovely Stacey Donovan Zapar, Founder of Tenfold Social Training, and the most connected woman on LinkedIn and Will Staney, Director of Recruiting, Strategic Programs at Success Factors. Will has been cited by Huffington Post as one of  The Top 100 Most Social Human Resources Experts On Twitter.
So it's a stellar headline act.
I'm very excited to be talking on candidate engagement, with a focus on what works well during the recruitment process.
If you'd like to book, click on this link and it will take you through to to booking screen.
Come along and say hi.
I'd really love to meet you all.
Karalyn