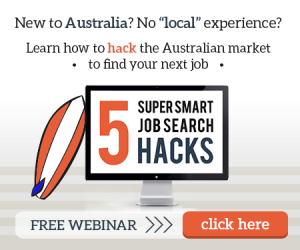 I get a lot of emails from people are new to Australia with job search dilemmas.
I struggle to answer all these individually as I receive so many.
This is one reason I have teamed up with Naishadh Gadani who is running the free webinar for job search hacks for skilled migrants, this coming Wednesday 3/9 at 8pm.
Naishadh is the only career marketing expert in Australia who has been a skilled migrant himself. That's why he's been able to develop such a successful training program, which we'll tell you about shortly.
Click here to register and find out more about the webinar.
In this webinar, you'll learn how to:
- find Australian jobs with "no local experience"
- set up your resume to pass the 10 seconds scan test by Australian recruiters
- build up a strong local network to help you find HIDDEN jobs that are not advertised
- market yourself  better on LinkedIn and online in social media in a powerful and genuine way to help jobs come to you
We give you practical examples you can immediately apply to your own individual situation.
{ 0 comments }