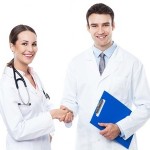 Do you have a medical specialty interview coming up?
For the past 10 years Impressive Interview's Deborah Barit has helped hundreds of professionals succeed through the extremely challenging process of medical specialty interviews.
Deborah is the only person in Australia with a real depth of experience training in this specialised area. She now has clients fly in to Australia just to see her for interview training.
Deborah has developed an exclusive interview training Master Class.
She has built this class specifically around the needs of visual learners.
It might seem strange that we're talking about this. However this is a huge problem.
Visual learners really struggle in interview because they are not given any visual cue (for example, a question that is written down), to help them understand the questions. So an interview which is all based on verbal communication, leaves them struggling.
You may not know you are a visual learner.
You may just know that despite your best efforts, you flounder in interview. You might also find yourself preparing for interview like you would for an exam – that is memorising your interview answers.
(If you do try to memorise your answers in interview, your interviewer will actually know that you do this. Read this post if you need to know more about how.)
{ 0 comments }