Q&A: Recruitment Consultants
I received these questions on my blog.
I thought I would answer with a post.
They're good questions.
"Hi Karalyn,
I have now registered with several recruitment agencies when applying for positions advertised on the Seek website.
I have two questions please … I have heard that if you register with many recruitment agencies, and these recruitment agencies are aware of this fact, they "don't work as hard for you". Is this true?
Secondly, I have done skill testing in Microsoft applications such as Excel and Word, as well as Data Entry and typing tests, with the first recruitment agency I registered with. Is it above board to offer these test results to other recruitment agencies, to avoid the necessity of repeating them?

Thanks for your help!"
OK, here goes.
A recruitment agency will work had for you if you have skills in demand (that they can place), or are immediately up for a job they have on their books.
If you have registered with many other recruitment agencies, and are about to sign for a job, then the consultant may leave it there with you, and wish you luck.
Good recruitment consultants will ask you qualifying questions about what you've been up to in your job hunt so far, other recruitment agencies you are registered with, and how serious you are about securing another role.
If you're a "gun" applicant a recruiter may ask you to work with them exclusively for a time. You should think carefully about this – for many reasons.
If you are not so hot as a candidate, or it is unlikely that the agency will be able to place you, a good recruitment consultant would encourage you to look elsewhere and make some recommendations about who may be better placed to help.
When I worked in recruitment I would consider how many places a candidate had registered with as an indicator of how keen they were to move, or even how bad they were as an applicant – it really depended on the scenario.
As a candidate you have every right to ask the recruitment consultant for some honesty in the process.
If you've registered with a few agencies, and worry about how that may impact your relationship with a consultant, there's nothing wrong with the question
"Are you likely to be able to place me?" If their answer is yes, you can tell the consultant that you are happy to work with just them for a while.
Two provisos apply to this answer.
* This scenario applies for more junior candidates. If you're at the executive level your relationship with a recruitment agency will be different.
** I use the qualifying term "good" recruitment consultant. If you are with a bad or an inexperienced consultant, all bets are off.
On your second question on testing – you can always offer to show your results. Some recruitment agencies use the same testing systems. Some don't.
Learn how to pick the questions interviewers will ask and get top preparation tips with this free e-book: "The Seven Deadly Sins To Avoid At Job Interview"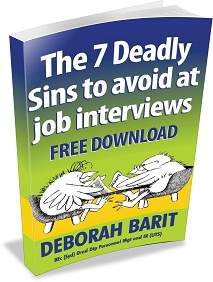 Deborah Barit wrote this book. She is one of Australia's leading interview coaches. It is packed full of easily actionable interview tips.
To get your free e-book and some of our best interview tips direct to your inbox, simply click on this link, and answer two survey questions about what makes waffle in interview. We'll then email you the book.
Here's what happy readers said about the e-book and interview tips:
"Deborah Barit is a very smart lady…She is good at figuring out what an employer is looking for. It's like she has ESP — with her help in preparing, I found no surprises in a recent interview and I was prepared for every question…." Cathy, Leichhardt
"Because I read so many of your posts, I feel as if you were my personal employment coach. I start my new position in two weeks. I had so many obstacles to overcome and each day you posted a solution to my dilemma and how to improve my search. Thank you so much for your input and PLEASE continue to do what you do!"