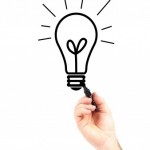 How to answer selection criteria- tips from a former public sector Recruitment Manager.

Are you struggling to write your selection criteria?
Do you keep missing out on interviews?
If so you're not alone.
The process is frustrating and time consuming. Even the most experienced public sector professionals sometimes struggle to write their selection criteria.
Read below for essential tips and answers, from me, a former government recruiter and panellist.
In this blog post I am going to give you selection criteria tips and examples and answers to some of the most common questions to help you get started.
Tip 1. How long should the selection criteria be?
How long is a piece of string?
No, I'm not being smart with this answer.
The length of your response to the selection criteria really does depend on the seniority of your position, the extent of your experience, and sometimes the length the panel stiplulates.
Having waded through hundreds of claims in my years of recruitment and as a professional writer, I normally start to get a headache after I've viewed 5 or 6 in a row.
The panel has to read all the applications closely, and they often have to write a summary report.
So I favour brevity.
If a word limit is not specified in the application, you can try calling the panel convener or person listed on the application pack for advice.
As a very general rule use half to ¾ of a page per selection criteria for more junior positions and a page and a half for more senior roles.
This rule however, depends on the selection criteria you're answering and the role at hand.
If you are asked to describe your qualifications, for example, you simply need to state what that qualification is, when and where you completed it, and perhaps the results you achieved for specific subjects, if the results are impressive and relevant.
If the skill you're asked to demonstrate is complex, then you spend more space outlining it.
Tip 2. Call the convener
No matter what your level, call the convener to make sure you fully understand the role.
Position descriptions and selection criteria can confuse you. There is always more than what the panel states in the selection criteria description – always.
When you call the convener about the selection criteria you are doing three things:
1) Ensuring they know you are interested – which is essential for more senior roles
2) Making sure you have a comprehensive understanding of the role, and importantly – being able to picture yourself in the role. The job becomes "real" at that point, and not just words on paper. If you can imagine what you will be doing every day/week/month, you can then bring in more relevant examples in your application.
3) Stopping yourself from wasting time on roles that you have no chance of securing. Believe me I have seen many examples of position descriptions that do not relate at all to the role at hand.
Tip 3. Ask these questions of the panel before you apply for the role
The best way to increase your chances of success is to visualise yourself in the role.
I'll give you an examples to show why this is important.
This is a typical selection criteria example:
"Demonstrated excellence in communication skills, negotiation skills and sound interpersonal skills applied at a high level."
There are so many ambiguities in this statement.
Reading this I have the following questions:
Why would you need to have excellent communication, interpersonal and negotiation skills?
Where would you need to apply these?
You obviously don't need to go through a forensic questioning process for every criterion.
However, good questions such as "can you describe how a typical day/week may play out in this role?" and "what do you see as the specific challenges associated with the role?" will give you an understanding of context.
The convener may then say:
"There is no such thing as a typical day. However in this role you will be responsible for ensuring that internal departments comply with a strict regime around the way they may engage suppliers. So you may spend a great deal of your time researching and identifying appropriate suppliers, writing contracts, then ensuring that the department uses the suppliers where we have negotiated agreements. There are over 30 different agreements, so you will need to be very organised."
I'm hoping from this example, you can see that instantly you have a deeper understanding of the examples you can talk about in your application.
So if you're writing your response to this criterion, you would probably spend more time outlining how you have worked effectively with suppliers and internal stakeholders, and less time on external customers.
Another good question to ask is "what are the priority skills associated with this role?"
While you will need to address all of the criteria, you will find that there are many listed that are less important. This question gives you real clues as to the focus of the role.
Tip 4. Answering selection criteria
Often there can be three or four things you need to address in the one selection criteria question.
If phrases in the one statement appear unrelated, they probably are.
(Sometimes the person who writes the advertisement will squeeze two or three criteria into the one line.  When recruiters advertise online in some forums, there is often only space for a set number of criteria – I know this as I have done it myself)
If there are multiple criteria in the one criterion statement, you'll need to put them in separate headings to make it easy for the panel to read. Why? It makes it easy to read and headache proofs your application!
The way the criteria are written is not meant to confuse you. Sometimes criteria are just written really quickly, or there have been several hands in the process.
Tip 5. What does demonstrate, demonstrated knowledge, demonstrated skills or demonstrated ability mean?

This question should really be at the top of the list.
Even applicants for the most senior positions struggle with understanding this properly.
Demonstrate essentially means show you have the skills, and or, provide some evidence to support a claim that you've made.
To do this you can pull examples out of your experience to show you have used those skills or knowledge. Like an answer in a behavioural interview, you can give a specific example of what the situation was, how you handled it and the outcome you achieved.
Or, if you have many examples to present, you could bullet point a list of your achievements. But highlight in this list, how you knew you were successful. The examples below will show you what I mean.
One of the biggest things that people forget when they demonstrate their experience is that they spend too much time focussing on the actions they took, and no time on the results they achieved.
You need a statement to show success in your action.
You also need to be draw the dots for the panel. Instead of just listing an example, you need to explain why it is relevant to the role.
Tip 6. Selection criteria examples to demonstrate what I mean
This is from a criteria I wrote for an applicant for a Clinical Nurse Specialist.
Effective communication skills.

From my research I understand that challenges of this role include working with clients who may be affected by drug and alcohol. This may lead to aggressive behaviour and require highly developed communication and negotiation skills, plus an ability to maintain the safety of staff and other patients in the event of any issues.
I have over 5 years experience working with a similar group of clients, many of whom were in rehabilitation clinics, experiencing "withdrawal symptoms" and exhibiting challenging behaviours. This has required highly effective communication skills, in particular an ability to manage the anger and stress these patients experience.
The following examples demonstrate my skills:
Example 1.
In my roles at ABC and DEF I needed to communicate with clients who were marginalized from society, intoxicated, drug affected, angry, depressed, frustrated, incoherent or in need of clinical interventions.
Communication required patience, empathy, and an ability to manage and de-personalise their frustration. I also needed careful questioning and listening skills and an ability to build trust in a tense situation. I have needed to be open and non-judgmental, read body language and defuse aggression. My strong communication skills in this scenario are reflected in my performance reviews. My supervisors have commended my communication skills. I have consistently received satisfactory grading and have been regularly promoted to act in a supervisory capacity.
Here's an example for an Executive Support Assistant.
Advanced skills in word-processing and presentation software applications, for the preparation of high quality documents.
I understand that in the role of Executive Support Assistant I will be producing lenghty and complex technical reports for the senior engineering team, and often translating these into power point presentations for a broader non-technical audience. This will require excellent communication skills, an ability to carefully question information to ensure accuracy, and advanced Word and PowerPoint skills.
Over the past 12 years as an Executive Assistant I have supported a number of technical teams which has required advanced communication skills, an ability to work with complex documents and strong attention to detail.
The example I provide below demonstrates my ability to use these packages to prepare high quality documents.
As an Executive Assistant I often prepared and compiled information booklets for academics from Australia and New Zealand visiting China for trophy presentations. These booklets included hotel information, maps, train timetables, sightseeing itineraries, company organizational committee tables, simple Chinese language phrases and racing information. To compile the book I researched this information from websites, translated it into English then re-presented and reformatted the information. The users of the booklets praised them and stated that they contained "indispensable information" allowing the dignitaries to have "a worry free stay."
Tip 7. How to manage the word limit
Working within a word restriction is often more challenging than where you have all the space in the world. Read this for some ideas on how to manage this.
My tip with this is to write without paying close attention to the limit. Then wait for half a day and be ruthless with your editing and deleting.
Tip 8. Do I actually need to address all the selection criteria?
The answer to this is absolutely. You will miss out if you don't.
Tip 9. Is it worth the bother?

Possibly.
Here's another insider's tip.
Ask the convener if someone is acting in the position. If they are, then they will probably be the front runner for the role. You can still apply, but you will probably need to be truly outstanding to secure the position.
The convener will not tell you this.
They will say that the position is "open" or "competitive" and leave it up to you to decide. If you hear this you may be able to tell how much chance you will have as an outsider, by seeing how forthcoming the convener is when they provide information.
At this point you may well be asking, is it really worth the effort? The answer is an obvious yes if you are interested in the job and yes if you understand the purpose of selection criteria. You can use the selection criteria to assess if you are truly suitable for the role.
If, however, you are struggling to reply to more than one or two selection criteria, have a long and hard think about whether it's the right job for you.
Tip 10. What can I expect once I've submitted my selection criteria?

A wait.
Possibly for weeks.
With three or more panel members to coordinate and for a whole host of other reasons, including rules around panels, public sector interviews are unavoidably slow.
Tip 11. Should I chase up my application?

You can chase it up, but not hurry it up.
This process takes time as all panel members often need to complete a report.
You'd need to get all panel members moving faster. The point to remember about merit selection is the government is mindful of fairness to all applicants. The panelists also may not understand the type of skills market they are dealing in, if recruitment is not something they do every day. So a call from you to say you have another job offer may elicit empathy, but no action.
The bottom line about this point is that no news can be good news. Expect to wait a lot longer than in the private sector.
Tip 12. Final word on feedback
What can you do if despite your best efforts you're not successful?
Always ask for feedback. The government is required to document their processes so as a general rule anyone who's been short listed for interview may have a paragraph or two written about them.
You may not get feedback, the government is only required to deliver this to applicants already in the public sector. However if you ask for it couched in terms of improving your performance, you may be surprised at what you find out.
Tip 13. Selection Criteria Writing Services

Some people are comfortable responding to the selection criteria themselves, but as your responses will be often be long and detailed, it's easy to make mistakes.
If you write it yourself you might want to ask a good friend (that is a very good friend who owes you a favour) to read through it. Make sure they have a lot of patience and a good eye for detail.
An alternative to doing your selection criteria yourself is to get it done professionally.
There are definite advantages here. If your written communication skills let you down, a professional can help make understanding you easy. This is particularly important if English is not your first language. A professional is also skilled at drawing out your unique strengths and will tell you about where you sit in the market in comparison to other applicants.
Update: Read this new post on how to crack the code as an outsider
Do you have government interview coming up?
Get help with a free e-book: "The Seven Deadly Sins To Avoid At Job Interview!"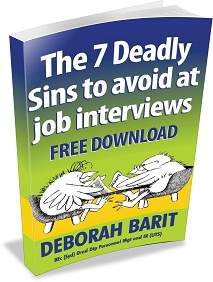 Deborah Barit wrote this book. She is one of Australia's leading interview coaches. It is packed full of easily actionable tips.
To get your free e-book and some of our best interview tips direct to your inbox, simply click on this link to have the book emailed directly to you.
Here's what happy readers said about the e-book and interview tips:
"Deborah Barit is a very smart lady…She is good at figuring out what an employer is looking for. It's like she has ESP — with her help in preparing, I found no surprises in a recent interview and I was prepared for every question…." Cathy, Leichhardt, NSW
"Because I read so many of your posts, I feel as if you were my personal employment coach.  I start my new position in two weeks. I had so many obstacles to overcome and each day you posted a solution to my dilemma and how to improve my search.  Thank you so much for your input and PLEASE continue to do what you do!"