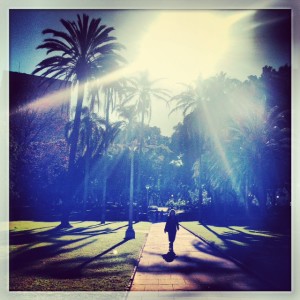 If you're reading this post, you might think I sound a little harsh with what I have just said.
But think of me as coming from the place of someone who loves you and wants to help you.  🙂
Having recently shifted base to Melbourne, I've been looking on LinkedIn to connect with local HR professionals who are interested in creating a better world of work.
To be honest I've been a bit saddened by the sorry state of many of the LinkedIn profiles I've read.
Please don't run me out of town after reading this. But I would go as far as to say what most HR professionals write, actually does them no good at all.
Here's a sample of some online crimes that have left me scratching my head.
Each line comes from a LinkedIn profile, with a couple of words changed to protect the wicked.
"Strategic Business Partner with a proven capacity to lead and execute organisational strategy."
"Business Partner with demonstrated record in organisational transformation."
"Passionate about helping organisations establish a talent framework and pipeline to support operational management and growth and in supporting businesses transition through transformation and change."
"Successful record of partnering with organisations to develop strategies to influence transformational change, achieved through insight and implementation."
"With a record of successfully leading and delivering transformational change across a diverse range of progressive of industries and markets…."
What's wrong with any of this I hear you ask?
To that I say nothing, and pretty much everything.
If your LinkedIn profile sounds like this, there's nothing technically wrong with what you have written. Although it's expressed in jargon, it is probably close to what you do.
However, this is what it comes down to.
Everybody else has written exactly the same thing. When people are searching to hire, they're not reading your profile in isolation. So after a while, the sameness becomes a bit suffocating.
If you were recruiting, who out of all these people, would you know who to call?
We all know the workplace is changing. HR professionals are uniquely positioned to play an exciting and leading role helping organisations succeed in making that change.
Yet I very rarely see this idea reflected clearly in anyone's LinkedIn profile.
Most people dump a laundry list of what they do or who they think they are, assuming that their value is obvious. The language is often impenetrable to anyone other than other HR professionals.
On LinkedIn, like in the Board Room, you need to help the business understand your true value.
If you're tempted to write "successful track record" replace these words with a specific statement that supports that claim. Perhaps something like:  "in my career I have contributed to reducing costs by…."
What's also important to know is that we all want to connect with individuals who are interesting, and who look like they would be willing to invest in a relationship with us. So you need to do your best to sound human.
This doesn't need to be complicated.
It could be as simple as telling someone what you love about what you do, or how you think better when presented with "a strong flat white and an orange and poppy seed muffin."
(I do. So feel free to connect and offer to bring me some)
Simple lines like these get people smiling and reaching to connect.
There are plenty of ways to use LinkedIn, social media and google, ways that you can future proof your career by being found and standing out by communicating your true value.