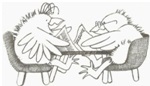 If you're struggling to find a job, and in Melbourne on the 16th of June, then get along to see InterviewIQ's favourite interview coach, Deborah Barit.
Deb's not only our favourite, she's one of Australia's most insightful.
She works collaboratively with people to help them get to the bottom of whatever is holding them back.
In this session Deb will cover the following:
Working out what the interviewer really wants to know
Answering behavioural questions
Staying focussed on the question that the interviewer is asking
Here are the details.
Date: Sunday 16 June 2013
Time: 5.30 – 7 pm
Location: Melbourne CBD
For just $75, the session includes a copy of the eBook 'Impressive Interviews: Your pocket sized personal interview trainer,' brief notes and light refreshments.
Bookings Are Essential, as places are strictly limited
The Information Session will provide you with:
A structured plan to prepare for a job interview
A framework for structuring your answers based on the style of question
Understanding of how to think from the employer perspective
Language to use at interview
Deborah is also available for individual job interview training
Ask for the amazing Deb.
Get a taste of Deb's work. Prepare for your next interview! Download her free e-book.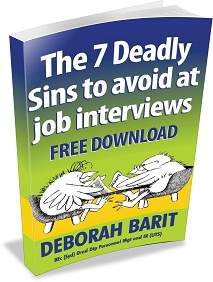 Deborah Barit wrote this book. She is one of Australia's leading interview coaches. It is packed full of easily actionable interview tips.
To get your free e-book and some of our best interview tips direct to your inbox, simply click on this link and answer a couple of quick questions. Easy as, hey!
Here's what happy readers said about the e-book and interview tips:
"Deborah Barit is a very smart lady…She is good at figuring out what an employer is looking for. It's like she has ESP — with her help in preparing, I found no surprises in a recent interview and I was prepared for every question…." Cathy, Leichhardt, NSW
"Because I read so many of your posts, I feel as if you were my personal employment coach. I start my new position in two weeks. I had so many obstacles to overcome and each day you posted a solution to my dilemma and how to improve my search. Thank you so much for your input and PLEASE continue to do what you do!"
Click here to have the e-book emailed to you.
"Read great tips on answering 'Tell me about yourself' and receive a free e-book The Seven Deadly Sins Of Job Interviews." Tweet this