How to find a job in Australia – if you're new here, you need to read this
You've filled out the forms, jumped through the migration hoops and arrived in Australia with your skill in demand. Now come the job offers – or not? You may hear from employers and recruitment consultants, that the only experience that matters is "local experience." While some professionals need an understanding of local practice and law, the obvious question for anyone else is – where do you gain local experience if you can't get your first break?
"No local experience" can mean that you don't have knowledge of local laws and regulations, but it also can mean that an employer or recruiter has no idea about how the work you have done, or the organisations you've worked in, have any relevance to them. They may make judgments about you and your experience, based on what they think they know about your country, good or bad.
Make it easy for employers to understand your resume
The first thing to do is to make it easy for employers. Any sort of stereotyping comes out of ignorance. Put context on your resume. In a paragraph above where you list each job, include succinct lines about the places you've worked, the markets you've worked in, or the competitiveness and demands of the working environment. Make some comparisons to well known Australian companies. Depending on what you do, it may help if you start your job search with organisations that are similar to places where you've worked previously.
On all your applications make sure your spelling, grammar, phrasing and expression are more than perfect. Potential employers will see your name, country of origin and can make assumptions about your communication skills. Adopt local expressions. Even if your English is text book, often an employer can hear someone's accent by the way they write and the expression they use. So if you have any doubts about your English, ask someone who was born here (and whom you trust) to review your resume.
Find a professional to review your resume
An even better idea is to hunt through the websites of professional resume writers. You'll see that many offer a free 20 minute review of your resume. I do this also. If there's no obligation attached to use the professional writer's services, then take advantage of this. It's also one way to test that the resume writer knows their stuff.
Be persistent in your job search
In searching for a job online, you will need to be more persistent and curious than you may think is necessary. Don't just email an application and hope for the best. By doing that you are allowing assumptions about you to go unchallenged, when what you really want to be doing is picking the brains of your recruitment consultant or potential employer. Build a relationship. If you find someone helpful at the end of the phone you can refine your knowledge of re-training you may need or experience you may need to gain.
If you do not feel confident over the phone, call someone you trust to practice. Ask them whether they can understand you and want to have a conversation with you. The way you ask questions and the tone that you use in asking questions is important. Australians are often less direct in their questioning style than other cultures. Also slow down. Body language contributes to a great deal of meaning in communication. All you have over the phone is your tone and your words.
Be creative in the way you find your job
Be more creative in your job search. If you are not finding the ideal role then you will need to be pragmatic. Find a job that lets you socialise with the "locals." I've been helping one person from Korea. He worked casually at a gym, made friends with one of the patrons and told him about his experience. It turned out this person needed help in his accounting firm. Opportunities pop up if you are looking for them but put yourself out there.
Register with agencies for temp work. Often consultants are less fussy with finding someone with the perfect background if it's just for short term assignments. These can lead to longer assignments, particularly if you're reliable. This is a great way to build up your networks. Again you'll need to be pleasantly persistent with the agency and keep in regular contact. Often speed is the essence in filling temp assignments and if the consultant knows you are easily available, you'll be the first person they think of when they're trying to fill an assignment. They'll love you more and want to help you if take on the harder to fill jobs.
Meet the locals
Create some networks through volunteering, sport or hobbies. First make some friends, then ask around for who may know of a job. Many jobs are found this way, where someone hasn't been a perfect match on paper, yet the employer has gone on the recommendation someone. It saves them money on recruitment and advertising. Be warned with this approach, though. Asking people for a job immediately when you meet them can be off-putting. The friendship is the most important thing. An offer to help you will often come afterwards.
Do some quality research. Find some people in your profession whom you can ask for advice on how your overseas experience translates, and where you should start your search. In my experience few people do this. Yet explaining how your skills translate is a great way to overcome the objection "no local experience." By doing this you're showing some great research and networking skills that even many locals don't have. There are plenty of professional networking sites and forums out there that make it easy to contact people.
Finally be patient. You're not alone in your experience and taking it personally will impact your self confidence. And that's a success killer in any job search.
For more information on resumes, read this:
Why a career objective on your resume is important
Watch out for these resume red flags
How long should a resume be?
Seven things you don't know I know from reading your resume
Don't make these top 10 resume mistakes
Learn how to answer interview questions and get top preparation tips with this free e-book: "The Seven Deadly Sins To Avoid At Job Interview"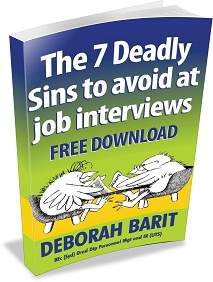 Deborah Barit wrote this book. She is one of Australia's leading interview coaches. It is packed full of easily actionable interview tips.
To get your free e-book and some of our best interview tips direct to your inbox, simply click on this link, and answer two survey questions about what makes waffle in interview. We'll then email you the book.
Here's what happy readers said about the e-book and interview tips:
"Deborah Barit is a very smart lady…She is good at figuring out what an employer is looking for. It's like she has ESP — with her help in preparing, I found no surprises in a recent interview and I was prepared for every question…." Cathy, Leichhardt.
"Because I read so many of your posts, I feel as if you were my personal employment coach. I start my new position in two weeks. I had so many obstacles to overcome and each day you posted a solution to my dilemma and how to improve my search. Thank you so much for your input and PLEASE continue to do what you do!"