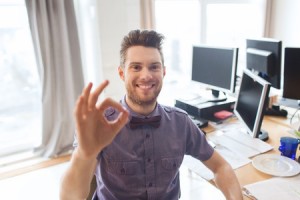 If you're an IT executive and/or consultant and polishing up your LinkedIn profile is fast becoming a priority for you, then I have some very good news for you.
We've developed a LinkedIn masterclass specifically for you.
It's in Sydney CBD on Monday 17/10/2016 from 4.00 to 8.30.
Click here to find out more and register to reserve your spot.
You'll learn how to attract more jobs and opportunities easily and with far less effort on your behalf. 
Specifically for senior IT professionals, you'll learn…
Online triggers to attract Employers, Hiring Managers, Recruiters or Talent Sourcers
Expert secrets to a powerful online and social presence
Formulae to showcase and standout in a powerful and genuine way
Easy and practical ways to turn casual social connections into professional relationships
Strategies to maximize your impact in the minimal amount of time
You'll leave this workshop with a LinkedIn profile that works for you and practical tools you can implement immediately.
3 reasons to do this LinkedIn masterclass now…
1. Recruiters scour social media looking for the perfect candidate. Research shows 93% search LinkedIn, 65% search Facebook; 55% consult Twitter; 18% search Google+; and in case there are any homemade videos lurking about, 15% will type your name into YouTube.
2. Big Data recruitment is here. Résumés will be redundant, replaced by evolving representations of individual's experiences, skills and aptitudes that exist purely in the digital realm. Innovative tools using social media, big data and other technologies to give tremendous insight into individual job seekers will be the primary screening method.
3. If you're in IT and not online, you're already behind. A US study of hiring trends, iCIMS, found approximately 1.1 million applications were submitted with social profiles. IT had the highest percentage of applications submitted via social networking tools.
I've said it before and I'll say it again on LinkedIn you simply cannot just list your experiences and skills to attract the right attention.
This masterclass will help you separate yourself from everyone else in an authentic and unique way.
You'll appeal to your target audience, positioning yourself as a resourceful solutions-provider.
Click here to register and reserve your spot.
This LinkedIn masterclass is for the following IT professionals…
C-Level Executives
Managing Directors
General and Senior Managers
Interim Executives
Business Leaders
Change Managers
Technology Leaders – CIO, CTO, CDO
Program and Project Managers
Technology Professionals, Consultants and Contractors
Technology Founders
Click here to register and reserve your spot now.