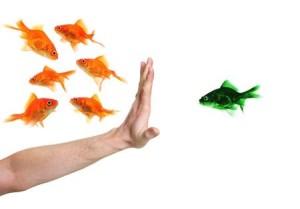 As someone who has helped many skilled migrants find jobs here, I get dispirited when I'm asked questions such as "should I change my name on my CV?"
I've wished I had an easy answer to give.
Our names form a strong part of our identity.
So why the hell should you change that when you look for a job?
I used to say to people that you don't want to work for people who judge you on the basis of your name.
But I now realise that what's worse than conscious bias, is the unconscious bias that we all have.
So even if people think they're not judging you, the reality is they probably are.
Read this research from the Australian National University.
Researchers randomly submitted 4000 fictional applications for entry level jobs. They used Anglo-Saxon, Indigenous, Italian, Chinese and Middle Eastern sounding names.
To be contacted for the same number of interviews as person with an Anglo Saxon sounding name, the research showed a person with a Chinese sounding name needed to submit 68% more applications, and a person with a Middle Eastern sounding name needed to submit 64% more applications.
The researchers suggested that people might think about changing their names on their applications.
But if it's not the applicants' bias at fault here, why should they change their names?
Given all the above, I am pleased to hear that some organisations are introducing blind CV screening without names. Read more about this here.
I do see some flaws in this process, as LinkedIn (where you can't remove your name) takes over as the number one recruitment tool.
More education and training is needed all around to eliminate bias, or unconscious bias.
By this I don't mean the usual EEO training, where people make silly jokes about needing to be "politically correct."
Many companies offer this, recognizing that bias is a problem, and that attracting diversity is key to eliminating this.
Yet we still have a problem as the research and lots of anecdotal evidence shows.
I'd suggest organisations look at education that works with people to get to the heart of their fears, or their lack of empathy that I see for overseas applicants, who've sometimes overcome huge challenges to make it here.
I also think many companies need to overhaul their recruitment processes, and find better ways to assess what skilled migrant applicants do bring, rather than eliminate people on what they think they see in a name.