A while ago I received an email from one of my readers.
She went into an agency about one job and ended up discussing three jobs with three different consultants.
She did not end up discussing the role that she applied for and wanted to know if the job actually existed.
This scenario happens all the time. I can think of at least five reasons as to why:
1)      The job did exist. But other agencies were also working it. So the time you visited the agency it was almost filled. The consultant skipped over it and wanted to help you out with other opportunities.
2)      The job "sort of" existed. There was a job, but the job was nowhere near the agency's exclusive property.
They may, for example, have called the company as part of a marketing drive. The client has talked about a job and then said "if you can find someone send them in." The agency then puts a quick advertisement up. Enter you.
3)      The consultant interviewed you and decided that you were not a good match for the job, but you were a good candidate. They had other jobs on their books that you may want.
4)      The consultants love you, want to place you, and are falling all over themselves to get you into their clients.
5)      Scenario 4) but the consultants neglected to talk to each other, so you end up confused. You would be surprised at how common this is.
The thing to remember here that in any scenario you have the right to pursue the role you want.
If you think you're being sold to, or even if you're not, you need to do your own due diligence on a role.
Ask as many questions as you need to ask to make the right decision for yourself.  It is in the agency's best interest that you are a long term match for that company. Their reputation is at stake if you leave the job too early.
Learn how to pick the questions interviewers will ask and get top preparation tips with this free e-book: "The Seven Deadly Sins To Avoid At Job Interview"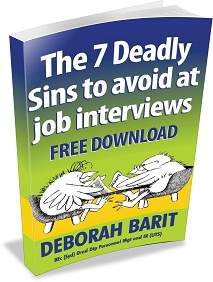 Deborah Barit wrote this book. She is one of Australia's leading interview coaches. It is packed full of easily actionable interview tips.
To get your free e-book and some of our best interview tips direct to your inbox, simply click on this link, and answer two survey questions about what makes waffle in interview. We'll then email you the book.
Here's what happy readers said about the e-book and interview tips:
"Deborah Barit is a very smart lady…She is good at figuring out what an employer is looking for. It's like she has ESP — with her help in preparing, I found no surprises in a recent interview and I was prepared for every question…." Cathy, Leichhardt
"Because I read so many of your posts, I feel as if you were my personal employment coach. I start my new position in two weeks. I had so many obstacles to overcome and each day you posted a solution to my dilemma and how to improve my search. Thank you so much for your input and PLEASE continue to do what you do!"