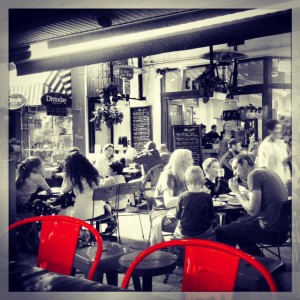 Last week I had the delightful experience of being interviewed by the engaging and entertaining Tracey Henderson.
Tracey runs Curious Interested, which is a coaching service for both individuals and organisations, helping them get unstuck.
I was honoured to be featured on her blog as someone who loves their work.
If you're curious in any way about the origins of InterviewIQ and where we are headed for the future check the post out here.
And as for the picture on the right here?
I'm a big believer that flexibility inspires creativity, so sometimes you'll find me in a cafe like this in Melbourne plotting world domination 🙂
Speaking of world domination, if you have an interview coming up that you're anxious about, then I have some good news for you.
Our favourite interview coach, Deborah Barit is running some workshops in both Sydney and Melbourne.
Check out her events page for details here.
Deborah also has a gift for helping people who come unstuck at interviews.
Specialising only in coaching and training for interviews, she's one of Australia's most respected and experienced interview coaches.
Starting next week, and held in Melbourne CBD, there are separate classes are for both medical specialty interviews and for other professionals.
You can also call Deborah direct for more information.
Office (02) 9331 1853
Mobile 0412 007 682