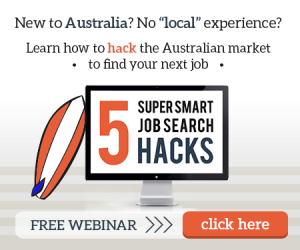 We're baaaaaaaack!
Based on our successful series last year, we're running these webinars again.
If you're new (or newish) to Australia and struggling to find a job, I strongly suggest you watch this webinar next Wednesday, August 10 at 8.00 pm Eastern Standard Time.
Naishadh Gadani is presenting this webinar. He is the only career marketing expert in Australia who has been a skilled migrant himself.
Click here >>>> to register for 5 super smart job search hacks for skilled migrants! [click to continue…]
{ 0 comments }