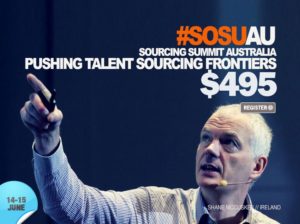 This post is for all of you Talent Acquisition wannabe gurus out there wondering if there are smarter ways to find hidden talent.
The good news is that there are. (Try saying this 10 times fast)
Find your path at this year's Sourcing Summit (#sosuau) in Sydney June 14&15!
You'll learn from accomplished global sourcing practitioners who'll be talking on the latest trends, tools and strategies.
Find out, for example, how you can accelerate your influence and impact by applying growth hacking methods to your sourcing tactics from guest speaker Billy McDiarmid.
Billy, one of the brilliant new voices in global sourcing, is speaking at #sosuau this year.
[click to continue…]
{ 0 comments }