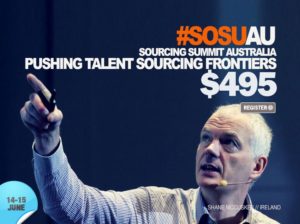 This post is for all of you Talent Acquisition wannabe gurus out there wondering if there are smarter ways to find hidden talent.
The good news is that there are. (Try saying this 10 times fast)
Find your path at this year's Sourcing Summit (#sosuau) in Sydney June 14&15!
You'll learn from accomplished global sourcing practitioners who'll be talking on the latest trends, tools and strategies.
Find out, for example, how you can accelerate your influence and impact by applying growth hacking methods to your sourcing tactics from guest speaker Billy McDiarmid.
Billy, one of the brilliant new voices in global sourcing, is speaking at #sosuau this year.

A self-confessed tech nerd, Billy will explore tools and tactics in the context of growth hacking and which will help sourcers find better talent.
He'll also share some of his war stories on finding talent in one of the most cut-throat talent markets in the UK.
Billy will be joined by international speakers from Ireland, Scotland, USA, NZ and of course Australia.
Check out the stellar line-up for 2017.
And for a taster of great things to come, listen to this podcast I recorded last year with Talent Army's Troy Hammond, another featured speaker in this year's line up.
We talk on how to source scarce tech talent in a tight market. By this I mean enticing the annoying techies who never answer their phones or return emails.
#SOSUAU is designed for sourcing practitioners and anyone serious about finding talent.
So don't miss out.