How to create your own job –  Naishadh's story
I landed on the shores of Australia, in Brisbane, on 6th August 2007 on a cold day. I knew very little about Australian culture and weather so the very next day my training began. The first few things were to organise my bank account, TFN No, and in the most important of all 'look for work.'
I was confident that I would land up a decent job within next few days as because of my experience and qualifications, but, I soon learnt that I had no idea about looking for work as I never had to look for work in India. This is the case for most of the skilled migrants. In India because my experience and network was so strong I could change the job without any hassle.
I started a journey in Australia in an unknown territory with very minimal support! When it came to applying for jobs I knew only 1 mantra – www.seek.com.au I spent more than 4-5 hours per day and applied to about 60-70 applications per day. I received a 75% response saying that my application is unsuccessful and got 5-7 phone calls per week for interviews.
During this time I learnt 3 valuable lessons: 1) To socialise and meet new people irrespective if you've the job or not 2) Surround yourself with positive people or keep yourself away from negative and toxic people who crib and complain about jobs and careers in Australia 3) Your job hunt has to be strategic, not generic, you must plan and work on the plan
Then came the 'D day' in early October, I was interviewed for a Sales Engineer position based in Dandenong, a suburb in Melbourne. After reaching the train station I found that it was a long walk to the company. I kept walking and walking and after 90 minutes I reached the company. The first question my boss asked "How did you get here?" I said "I walked". I could see light in his eyes and he smiled. The interview went fine and next day I got the call that I was selected and could start work in 2 weeks. I am still so proud of the fact that I didn't give up and kept my morale up.
I've always been always passionate about having my own enterprise and working for myself. I soon discovered an incredible opportunity of writing professional resumes and cover letters; further research in the subject led to me undertaking courses offered by two brilliant and accomplished resume writers. After 6 months of study and training I launched my business—Resume Solutions—and started helping professionals and skilled migrants who are struggling to find work. I also completed Get Hired Now (Job Search Training) and Interview Coach training; this boosted my credibility and also competency in delivering holistic solutions to my clients.
From someone who didn't know how to look for work and now assisting individuals in finding meaningful employment is such an extraordinary opportunity and I enjoy every second of it.
Naishadh Gadani
Professional Résumé Writer, Job Search Coach, Interview Coach
Résumé Solutions
www.resumesolutions.com.au
Need to get ahead of the pack for your next interview in Australia? Download our free e-book!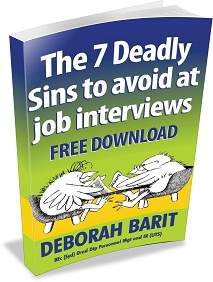 Deborah Barit wrote this book. She is one of Australia's leading interview coaches. It is packed full of easily actionable interview tips.
To get your free e-book and some of our best interview tips direct to your inbox, simply click on this link and answer a couple of quick questions. Easy as, hey!
Here's what happy readers said about the e-book and interview tips:
"Deborah Barit is a very smart lady…She is good at figuring out what an employer is looking for. It's like she has ESP — with her help in preparing, I found no surprises in a recent interview and I was prepared for every question…." Cathy, Leichhardt, NSW
"Because I read so many of your posts, I feel as if you were my personal employment coach. I start my new position in two weeks. I had so many obstacles to overcome and each day you posted a solution to my dilemma and how to improve my search. Thank you so much for your input and PLEASE continue to do what you do!"