"There may be another way than what your culture is telling you…" Tom Shadyac, Hollywood Director
Three years ago I made the decision to throw my life away. I had gone so far off-track that I was in crisis.
I gave up my professional career of almost 14 years in human resources management.
I walked away from a long-term relationship that was no longer working.
I gave up the two bedrooms, two bathroom Docklands apartment, and BMW convertible.
Heavily in debt, I was broke. I did not have a single cent to my name. I had been reckless in spending over the past decade, believing that the overseas trips, 5-star hotels, and expensive restaurants would make me happy.
I blew several hundred dollars each week on alcohol alone during "after work" drinks. Monday night drinks to cope with the week ahead, Thursday night as the new Friday, and Friday night as the most liberating day of the week. And then there was Saturday night out.
I thought that I could somehow subdue a heavy feeling that something was wrong with my life.
However no matter how hard I worked or the material possessions that I accumulated, I was still miserable inside. I tried to conform to the rules of society – to study, get a stable job and to settle down.
And here I was, totally depressed, anxious and overwhelmed with a sickening feeling of dread and impending doom.  I felt trapped in corporate life. I felt suicidal at the thought of spending the rest of my life in a corporate office. I knew that I needed to make a radical change in my life, as I could no longer deal with feeling depressed and anxious all the time. I was crying out for freedom beyond the 9 to 5 drudgery.
I told my partner of nine years that I was going to leave the relationship. I spent a final week at the apartment in which we both cried and spent our last remaining days together.
He did not beg me to stay.
I took this as a sign that we both recognized that something needed to change. I think he had grown tired of my unpredictability and insecurities. No matter how hard I tried to communicate, he did not understand my crisis.
It was at the same time that I resigned from my corporate role with no other employment prospects. All I knew at this point is that I wanted to discover who I truly was. I had tried what society told me to do – to get an education, to work hard and be responsible.
The approach failed, as I had betrayed who I was inside. I had become so disconnected from my interests, values, and aspirations in life. And so I took stock of my life.
I went back to my original childhood interests of psychology. I plunged into exploring Eastern contemplative traditions such as Buddhism and nonduality.
I studied alternative psychological approaches such as existential and transpersonal schools of thought, which contemplate the meaning of life and our connection to the universe. I discovered that what was happening to me was part of a larger unfolding process of awakening and rebirth.
Joseph Campbell coined the famous term 'the hero's journey' in his book 'The Hero with a Thousand Faces' – stages of deep transformation that each of us will journey through at some point in our life if we accept the inner calling.
Our sense of identity crumbles away when we discover that our old life is no longer working. But we are reborn into something wonderful. The journey is not easy, but it does get better.
I made a decision that I would only do what felt right inside. I spent a year studying career counselling followed by another two years studying transpersonal counselling. I completed internships in Vietnam and Canada.
It was at this point that I discovered by accident that there was demand for a spiritual approach to mental health and life transformation.
Tired of conventional methods that label depression and anxiety as a disorder, I started to connect with clients who are seeking a deeper connection in life and a reconnection with their soul.
I discovered people who want to awaken and experience a sense of liberation from our limited world view that dominates Western society.
And it was through this journey that I discovered that I was not alone and that it was okay to question the mainstream system.
To devote yourself to healing and authentic life purpose is a worthy cause in life. Feeling the heartbreak of the environmental destruction and harmful ways of living on the planet was not a sign of being 'overly sensitive,' rather is an invitation to question reality.
Through my studies and talking to people, I gradually become clearer as to how I could help clients to awaken, heal their past wounds and define a heart-based life path within the chaos of everyday existence.
I now work as a holistic psychotherapist and counsellor.
I work online over secure video with clients across Australia, Asia, and North America. I have been invited to present at conferences on transpersonal psychology in Canada and contribute to psychology journal articles on spiritual awakening, which grew out of me connecting with other professionals in the transpersonal psychology field.
I feel incredibly fortunate that clients seek counselling sessions with me and are happy to work with me online over secure live video.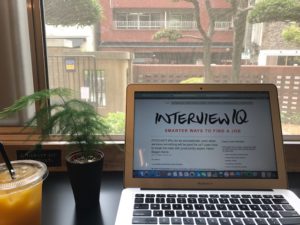 I now work independently of location and currently base myself in Japan. I spend my days meditating, exploring the local culture, writing and doing online therapy sessions with new and existing clients.
This new life is not without its challenges. But it's the happiest and most free that I have felt in my entire life.
Each day for me is about continually letting go, following my instincts and connecting to work that has meaning and purpose. Fear is a constant visitor on this unknown path, as my old world views drop away, and I learn to trust that life has my back.
For me, it has become about taking a continued risk and being comfortable with not knowing what will happen next.
In working with clients, I see on a daily basis that we each have our unique path in life.
All of the answers that we need are inside of us. We just need to learn to slow down, listen within and find the courage to move in a direction that feels right. Our body is innately intelligent, and we can feel when something is out of alignment.
I've had to learn to embrace not knowing and insecurity completely. I've learned the hard way of the importance of listening to my body.
I did not imagine that my life would turn out this wonderfully on that fateful day when I threw my old life away.
I am glad that I did. Personally, there is much work ahead, and the healing does not stop, but I found a way of living that feels authentic to me and work that I love. And I get to meet amazing people on the same path all over the world.
If you'd like to find out more about the way I work, please feel free to connect with me on LinkedIn, visit www.buddhainasuitcase.com or via email at hello@buddhainasuitcase.com.