I know when you read this blog that some of you may accuse me of being either:
1. the Grinch that stole Christmas or,
2. completely humourless or,
3. the original party pooper.
But I'm afraid I have to take that risk because this is something that I feel very passionate about.
Last time I checked, one of the basic tenants of being a Recruitment Consultant or HR Professional was that candidate information (including the candidate assessment process) is strictly confidential.
In fact recruiters when joining a new company will typically be asked to sign a candidate confidentiality agreement.
And yet, I have but to Google "funny candidate interview" and a veritable online tsunami of stories from Recruiters and Human Resources professionals floods my screen.
I can then choose from a smorgasbord of juicy and delicious tidbits that may include quotes from job candidates that the recruiter found amusing, "strange" and "unusual" candidate behaviour or perhaps some left-of-centre resume information.
Interestingly though I don't often find any whiff of a suggestion that the candidate has been counselled by the recruiter to get them back on the path towards their goals.
The candidate often as not appears to have simply been written off and I suspect has then become an anecdote to be shared around (and far beyond it would seem) the water cooler.
Two questions spring to mind.
1. What message do we think this behaviour sends to our clients (employers and employees)?
2. Does this behaviour promote or undermine our clients' trust and respect?
I sit here rather nervously awaiting your response.
Learn how to pick the questions interviewers will ask and get top preparation tips with this free e-book: "The Seven Deadly Sins To Avoid At Job Interview"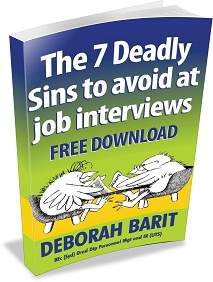 Deborah Barit wrote this book. She is one of Australia's leading interview coaches. It is packed full of easily actionable interview tips.
To get your free e-book and some of our best interview tips direct to your inbox, simply click on this link, and answer two survey questions about what makes waffle in interview. We'll then email you the book.
Here's what happy readers said about the e-book and interview tips:
"Deborah Barit is a very smart lady…She is good at figuring out what an employer is looking for. It's like she has ESP — with her help in preparing, I found no surprises in a recent interview and I was prepared for every question.." Cathy, Leichhardt
"Because I read so many of your posts, I feel as if you were my personal employment coach. I start my new position in two weeks. I had so many obstacles to overcome and each day you posted a solution to my dilemma and how to improve my search. Thank you so much for your input and PLEASE continue to do what you do!"