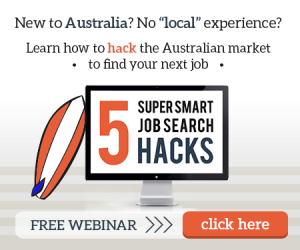 We're baaaaaaaack!
Based on our successful series last year, we're running these webinars again.
If you're new (or newish) to Australia and struggling to find a job, I strongly suggest you watch this webinar next Wednesday, August 10 at 8.00 pm Eastern Standard Time.
Naishadh Gadani is presenting this webinar. He is the only career marketing expert in Australia who has been a skilled migrant himself.
Click here >>>> to register for 5 super smart job search hacks for skilled migrants!
Here's what you'll learn:
Creative ways to find Australian jobs with "no local experience" with PROVEN tips from a career marketing expert who has cracked the Australian job market himself
How to get your resume to pass the 10 seconds scan test by Australian recruiters
How to market yourself on LinkedIn and online in social media in a powerful and genuine way to help jobs come to you
How to build up a strong local network to help you find HIDDEN jobs that are not advertised
Practical examples you can immediately apply to your own individual situation.
At the end of the webinar, Naishadh will be opening up spaces for his online training course, which has an 83% success rate in helping people get jobs.
Spaces are limited so click here >>>>to register now!