Hello IIQers,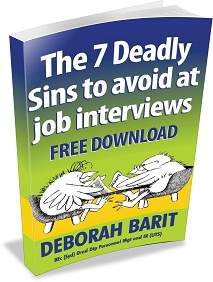 We have a very special offer for anyone who is looking to change jobs this year.
We're giving away a fantastic, FREE and freakishly-fast-to-read ebook: The 7 Deadly Sins To Avoid At A Job Interview. CLICK HERE >>> to find out more.
(I know, I know – too many "F's" in the one sentence, but I can live with that)
The book is by Interview IQ's favourite interview coach, the lovely Deborah Barit.
Deb is Founder of Impressive Interviews.
She has more than 10 year's experience training people to succeed in interview (some who have thought they'd never succeed in getting a job).
To get the book, simply click on this link and answer 4 simple questions about your job search.
This research will help us help you in the coming months. So go crazy with the detail.
I've tested the form several times and I don't think you can break it with too much information.
Hope you enjoy it.
Karalyn