Can you really find a job earning 150K in the mines in Australia?
Hands up who's heard a story like this?
My friend's gardener lost his week-day job and couldn't find another one. So he went over to Western Australia and found a job driving trucks in the mines. He only works for three days a week and is earning $150,000 a year.
It's funny how you hear these stories about mining jobs from someone who knows someone.
The almost manic interest in the resources sector coupled with very high levels of job-loss anxiety is a heady cocktail of expectation you need to drink with some caution.
Here's the insider tip from someone who's actually working on a mine site in outback Western Australia.
After you read this post, I'd like you to do two things.
1) Download our free e-book at the bottom of the post. This has great tips on preparing for interviews.
2) If you like this post, send it to your friends.
Meet my nephew James – who found a job in the mines without experience.
James has been working on the mining site for about 5 weeks.  He's recently married and has made the difficult decision to try his luck in a mining job, away from his wife. He has done this as an investment in their future.
He just recently flew back home. I had the chance to catch up with him and hear about his experiences. I thought this would be a great opportunity to hear what it's really like, and to share those insights with our InterviewIQ audience.
But before we talk to James, let's first of all highlight the common perceptions out there about mining and resources sector jobs…..
If you land a job on a mine site, you're going to be on big money, even for menial work ($80- 120,000+), because you're in a remote location and it's hot, unpleasant and uncomfortable.
It doesn't matter if you don't have specialist skills.  Getting lots of qualifications (mine site "tickets" like Safety, Vehicle, Security and Heavy Rigid) will make you employable.
The best first step is to get those relevant mining tickets under your belt.
Then approach recruitment agencies who will place you in a mining job.
After a chat with James, I had to re-evaluate all of those perceptions.
If you have no experience, should you approach recruitment agencies to find job in the mines?
James found that as an unskilled/unqualified potential mine site worker it was basically a waste of time approaching recruitment agencies.  He found they aren't very interested in you if you don't have specialist skills to sell (eg engineering, trades, drilling experience etc).  Plus they encourage you to get a heap of mining site tickets, which adds up to quite a lot of money, with no guarantee of a pay off.
Of course it's likely that not all recruitment agencies do this, but it was certainly James's experience.
How did James find his first job in the mines?
James found his job through networking.  He spent 3 months calling everyone he knew that had some connection to the mines.  He called friends of friends of friends.  He followed up every lead and was persistent yet patient. He knew because of his lack of experience there were a limited number of jobs he could get, so he identified those jobs and focused his efforts there.  James works as a personal trainer and is a very sociable, connected person in his home city, so he had a good head start.  But he estimates that he had at least 40 conversations with people before he got offered a job.
Only when he had a job offer, did James then go and get mining qualifications which were specific to the mining site that he would be working at.  That way he didn't waste his money.
And after 3 months his efforts paid off!
James secured a job on a drill site at an exploratory mine 3 hours drive from Newman in Western Australia.  Basically in the middle of nowhere. He started there 6 weeks ago.
What is it really like to work in an unskilled job in the mines?
Here's the hard part.
James' job involves bagging and carrying ore samples from the drill.  It's dirty, dusty, back-breaking, monotonous and uncomfortable work.  And that's just in winter.  James has to wear long sleeve shirts, trousers and a hard hat for sun protection so in the summer it will be almost unbearable.
James is extremely fit and strong and isn't shy of hard physical labour.  So he has a head start on many potential mine workers.  The plain naked truth is that this sort of work doesn't suit everyone.  And it's not just the physical, routine nature of the work you should consider.  Often you're working in remote locations, away from family and friends for extended periods.  So there's a substantial ongoing mental challenge as well.  Although it's a sobering thought, these are important points to consider before making the leap into the mining industry.
So I'm guessing that you're thinking James is at least earning big bucks?
How much is James actually earning in mining?
Well I'm sorry to blast another perception out of the water but James is actually earning about the same that he would at home as a Personal Trainer!
Mining companies have been burnt by high levels of unskilled worker turnover. They turn up and disappear almost before they've unpacked their bags.  And mine sites are often in remote locations so it isn't easy to replace a worker at short notice.  So they test their workers out to see if they can demonstrate commitment, reliability, productivity and aptitude.  Just like any other employer.  It's unfortunate to have to burst the "pot-of-gold" bubble but unless you have in-demand skills, mining companies do not appear to immediately hand you a bag of money.
How will James get to earn good money in mining?
Well he's already been looking around and his plan is to move into the construction area as a Tradesman's Assistant.  He has to prove himself first, get to know people and then wait for a vacancy.  But he could then be earning $3,000 a week or around $150,000 a year.  He has given himself a specific time frame to achieve this which he thinks is realistic.  I also believe it counts in James's favour that he's doing this for a specific long term goal to set up his own business and secure his family's future.
On a side note he's also discovered that the recruitment agencies are now more interested in helping him because he is establishing a track record of productivity and reliability.
So if any of this has not put you off, and you'd still like a job in the mines, here's James's scoop on what you need to do.
The inside dirt on finding a mining job
Do your homework and expect to have to network for an extended period to secure a mining job.  It's who you know not what you know;
Talk to as many people as possible who work in mining jobs to find out what it's really like.  And then reflect on whether it will suit you;
Try not to be too blinded by the promise of huge salaries.  If the work doesn't suit you then you won't be earning huge salaries.  It could even cost you money;
Don't jump in and sign up for too many mining qualifications or "tickets".  It may be wise to secure the job offer and then discuss with your new employer what tickets to go and get;
Expect to have to prove yourself in a dirty, unpleasant, monotonous job before you start earning good money; and
Try to have clear and achievable goals as a motivation for moving into what can be a physically and mentally challenging industry.  This will help see you through the tough times.
Finally, good luck making your fortune!
If you have a story about working or trying to find a job in the mines, please leave a comment below.
Do you have a mining interview coming up?

Click here to try out our new iPhone app, myPitch. Watch the female graduate video, which is future focussed and allow you to craft an explanation as to why you might want to changed your career to a mining career.
Get ahead by getting prepared early! Here's a free e-book: "The Seven Deadly Sins To Avoid At Job Interview"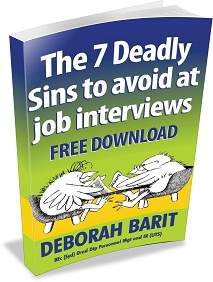 Deborah Barit wrote this book. She is one of Australia's leading interview coaches. It is packed full of easily actionable interview tips.
To get your free e-book and some of our best interview tips direct to your inbox, simply click on this link, answer two quick questions, then we'll email you the book.
Here's what happy readers said about the e-book and interview tips:
"Deborah Barit is a very smart lady…She is good at figuring out what an employer is looking for. It's like she has ESP — with her help in preparing, I found no surprises in a recent interview and I was prepared for every question…." Cathy, Leichhardt, NSW
"Because I read so many of your posts, I feel as if you were my personal employment coach. I start my new position in two weeks. I had so many obstacles to overcome and each day you posted a solution to my dilemma and how to improve my search. Thank you so much for your input and PLEASE continue to do what you do!"