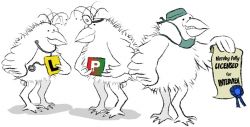 If you have a medical specialty interview coming up and you need to train to get into the best possible shape, then read on.
InterviewIQ's preferred interview trainer, Deborah Barit, is running face to face interview training master classes in Sydney, Melbourne and Brisbane.
In my mind Deborah is one of Australia's best interview trainers. I have no hesitation about referring people to her, particularly people who struggle to sell themselves in interview.
She's had over 10 years' experience training a range of specialists and has helped some of Sydney's top medical professionals.
Some of her interview trainees have topped the state in results.
People specifically fly in to see her.
Her training approach is not formulaic. She has a real way of getting inside your head to work with whatever is holding you back from doing your best in interview.
These master classes are specifically designed for you to make the most of the group dynamic.
The classes are for both surgeons and physicians.
Spaces are limited to 6 per class.
Interview training dates and locations:
– Brisbane, Wednesday 27th April, 6pm – 9pm
– Sydney, Saturday 7th May, 10am – 1pm
– Sydney, Sunday 8th May, 1pm- 4pm
– Melbourne, 14th – 15th May (enrolments close on April 27)
To contact Deborah directly, email: deborah@impressiveinterviews.com.au or call her on 0412 007 682.
The interview training master class will cover:
• Understanding the interview panel perspective
• Lateral thinking
• How to structure answers for different styles of questions, ie direct, behavioural and situational
• Selecting appropriate examples
• Language to use at interviews
• Mock interview practice video – using questions likely to be asked at interview with feedback
Don't delay booking, spaces are limited to 6 people.