How to use LinkedIn to find a job
How to use LinkedIn to find a job you want in Australia
LinkedIn now has over 300 million members and counting.
If you're looking for a job, the good news for you is, not so many people know how to use LinkedIn effectively to find a job.
In fact, our research shows that less than 10% of people know how to use LinkedIn to explain what they do and the value they can add in a clear and compelling way.
That means they're missing out on hundreds of potential jobs.
It also means that if you follow the tips we provide, you can easily stand out in a crowd of people who do not bother.
To help you find a job on LinkedIn we've written this FREE report: "Don't make these insanely dumb mistakes using LinkedIn."
Click here >>> to get emailed the FREE report or click on the image below.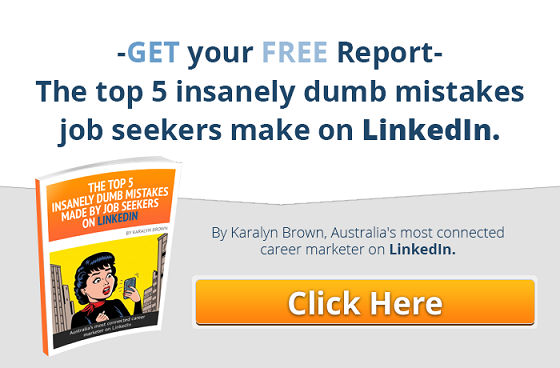 Click here >>> to get emailed the FREE report.
Seven quick tips to help you use LinkedIn to find a job in Australia
LinkedIn is way beyond being just a bucket of business cards.
Never before have we had so much information about companies and the individuals who work in them, available on demand.
More than that though, if you're looking for a job and are routinely adding people to your LinkedIn network, you may well have a connection who can introduce you to someone who works for your future employer or who is associated with that company.
Here are a few quick tips on how to use LinkedIn to find a job.
1. You can optimise your LinkedIn profile to be found in searches by recruiters, headhunters and employers – many of whom are using LinkedIn as their first place to look for hidden talent.
2. You can use LinkedIn to create a powerful brand and lure people to your profile with content they'll find useful.
3. You can use LinkedIn to approach employers directly to find a job and bypass recruiters altogether.
4. You can build up your network and approach them to help you research opportunities or make direct contact with employers.
5. You can create a group around a professional interest you have and have your expertise be sought out by others.
6. You can follow company pages on LinkedIn to find out more about organisations you want to work for, and use this detail in your applications.
7. Check out all our latest blog posts below on how to use LinkedIn to find a job.
LinkedIn profile writing service
If it all seems too hard, too confusing, and/or too time consuming come to talk to us.
A professional can assist with bringing out your most marketable skills to highlight on your profile.
We can also optimize your LinkedIn profile to help you be found by headhunters and recruiters and give you a proven strategy for the fastest and easiest way to find a new job.
We've been working with professionals helping them make the most of LinkedIn for the past 7 years. For more information visit optimize your linkedin profile.
For a quote, email – TeamIQ@interviewiq.com.au.
Here are our most popular posts on how to use LinkedIn to find a job