I was chatting to Karalyn the other night about a comment I had come across from the InterviewIQ blog post, 6 reasons your recruitment consultants doesn't give you feedback.
Karalyn gave 6 reasons to explain what goes on behind the scenes at a recruitment agency. She describes why people do not get the service they deserve.
Recruitment Consultants are easy targets. Inevitably when we write posts like this about agencies, we always get told the "seventh reason."
Like the writer of this comment said:
"What a load of nonsense excuse making. Agents don't give feedback because they are rude, lazy and arrogant. It's as simple as that. They'd *never* accept being treated as such so why treat someone else that way? Because they can. It is possible to send someone a quick email stating that the application has been unsuccessful without having to delve into detail.
However, they choose not to and that is purely a reflection of the poor professional and personal attitude pervasive in the recruitment industry."
Other readers' comments along similar lines caused me to think that unfortunately not much has changed on the "candidate feedback front" since I was a recruiter 15 years ago.
Don't get me wrong.
I was no angel when I was looking after candidates!  I made my fair share of mistakes and my care of candidates wasn't always the best.
I remember on more than one occasion deliberately avoiding candidate feedback either because I didn't know how to handle an uncomfortable situation or because I was paranoid about exposing my employer to a law suit.  And the organisational culture meant that a blind eye was turned to this shortcoming if I was generating revenue for my employer.
I do know though that I always had my heart in the right place and that I genuinely cared about my candidates.
Why am I telling you this?
Because it reminded me of a very important lesson I learnt from an eager 19 year old young bloke from the South Western suburbs of Sydney named Mario (name changed).
He told me he had been "workin" in a clothing store, enjoyed "playin" rugby league and was "lookin" for work in call centres within the Finance and Insurance industries.
So here's my dilemma.
I can't put him forward for the call centre jobs I have because I know that my clients wouldn't be happy.  They want well spoken staff to represent their organisations with their customers and they would view Mario's poor enunciation as unprofessional.
But Mario is a bright, enthusiastic young bloke with a lot of potential.
I know that the owner of the recruitment agency would have a heart attack if he knew what I was about to do, but my heart tells me it's the right thing.
So I do it.
I tell Mario that his speech is holding him back and that I can't put him forward until he fixes it.
And what does Mario do . . . . . ?
He takes a deep breath, looks like the wind has been taken out of his sails but then looks me in the eye and says….
"Richard I've been to over 10 agencies so far and I knew there was a reason why I hadn't been given a chance!  But no one would tell me!  It's not nice to hear it but thank you for bein' honest with me."
Mario was genuinely appreciative and I think he respected me more because I'd had the courage to say what needed to be said.  I tried to reassure him that his barrier could well and truly be overcome with a bit of effort on his part.
And Mario's mature response taught me two incredibly valuable lessons:
1. if your candidate assessment is entirely based on valid selection criteria any negative feedback is defendable from potential legal action and therefore;
2. you as a recruiter should always exercise your obligation to your candidates to provide honest feedback.
So as a candidate you have a right to expect honest feedback from your recruiter.
Need to get ahead of the pack for your next interview? Download our free e-book!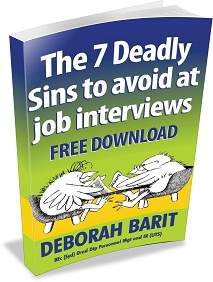 Deborah Barit wrote this book. She is one of Australia's leading interview coaches. It is packed full of easily actionable interview tips.
To get your free e-book and some of our best interview tips direct to your inbox, simply click on this link and answer a couple of quick survey questions. Easy as, hey!
Here's what happy readers said about the e-book and interview tips:
"Deborah Barit is a very smart lady…She is good at figuring out what an employer is looking for. It's like she has ESP — with her help in preparing, I found no surprises in a recent interview and I was prepared for every question.." Cathy, Leichhardt.
"Because I read so many of your posts, I feel as if you were my personal employment coach. I start my new position in two weeks. I had so many obstacles to overcome and each day you posted a solution to my dilemma and how to improve my search. Thank you so much for your input and PLEASE continue to do what you do!"
Click here to get access to the e-book.
And if you don't get it, find another recruiter!