In case you didn't notice, we've launched an app 🙂
It's called myPitch.
It helps you craft an elevator pitch to impress the interviewer within the first 30 seconds.
Check out the android version here. Here's a link to the iPhone version.
So we were very honoured to be featured on the morning of the launch by Fiona Smith from the BRW. Check her out on Twitter here fionaatwork.
We've been truly delighted by all the support the app has received so far, and would sincerely like to thank everyone for their support.
But back to Fiona. She  blogs on all sorts of topics around the workplace and job hunting on the BRW's website. See her profile here.
The article covers the five trickiest interview questions.
Like these questions or loathe these questions, you need to be prepared to answer them.
The interview questions are:
(1) Tell me about yourself.
(2) Where do you see yourself in 5 years time?
(3) Tell me about your strengths and weaknesses.
(4) Tell me about a time where you made a mistake.
(5) Why should we hire you?
If you'd like some tips on how to manage these questions, check out Fiona's piece: answers to the five trickiest interview questions.
Learn how to pick the questions interviewers will ask and get top preparation tips with this free e-book: "The Seven Deadly Sins To Avoid At Job Interview"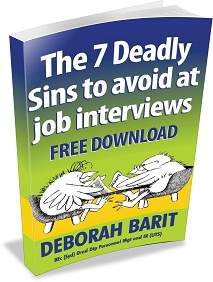 Deborah Barit wrote this book. She is one of Australia's leading interview coaches. It is packed full of easily actionable interview tips.
To get your free e-book and some of our best interview tips direct to your inbox, simply click on this link, and answer two survey questions about what makes waffle in interview. We'll then email you the book.
Here's what happy readers said about the e-book and interview tips:
"Deborah Barit is a very smart lady…She is good at figuring out what an employer is looking for. It's like she has ESP — with her help in preparing, I found no surprises in a recent interview and I was prepared for every question…." Cathy, Leichhardt
"Because I read so many of your posts, I feel as if you were my personal employment coach. I start my new position in two weeks. I had so many obstacles to overcome and each day you posted a solution to my dilemma and how to improve my search. Thank you so much for your input and PLEASE continue to do what you do!"