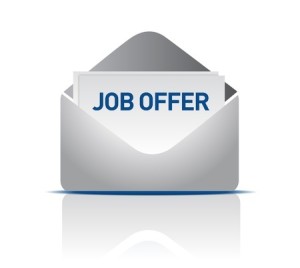 Have you ever wondered why some people attract job offers from LinkedIn, and you do not?
Good news is here! Help is at hand.
There are some simple things you can do right now, to attract recruiters, head hunters and employers to your LinkedIn profile.
These are proven tactics my clients have used to find jobs using LinkedIn.
So, I want you to read every word of this post, and try what I am about to tell you.
Here are the 5 things that will help your LinkedIn profile do the hard work for you.
If you'd like to go directly to the topic, click on the link.
1. Help your LinkedIn audience easily understand who you are and what you offer 
2. Create an enticing LinkedIn headline that prompts people to click through to your profile
3. Stand out using secret layout techniques by expert web copywriters
4.  Use LinkedIn's visual tools to showcase your skills, achievements and experience
5. Write a clickable status update that entices your audience to take a look at your profile
1.Help your LinkedIn audience easily understand who you are and what you offer.
This is critical as people are time poor.
They tend to skim read on the web.
That means that before you launch yourself online, you should be clear about who you are, and your purpose for being on LinkedIn.
It should be obvious up front.  And, you should write about it close to the top of the profile summary section, and in your headline.
Now there are many reasons you could be on LinkedIn.
Your reason for being on LinkedIn may be:
a) You are applying for a similar role to your current one 
b) You want to change your career 
c) You are trying to develop business opportunities using LinkedIn, perhaps as a consultant
Let's go through how to talk about each of these below.
Or click on the link above to be taken straight to the scenario.
a) You are applying for a similar role to your current one
State your profession up front in the summary section and headline.
For example if I was an Accountant, I might say in the summary section:
"I am a Senior Accountant with 5 years Big 4 experience leading large-scale audits across tier-one corporations."
If your skills are in demand in the market, I suggest you put more information on LinkedIn around your achievements, skills, and accountabilities, rather than less.
In your summary and experience section, rather than just state you have particular skills, you will stand out if describe how those skills have created value for your organisation.
Also, when you talk about your value, make sure you use words that are meaningful to your target audience. Include specific terminology that reflects a measure for success in your industry.
So, what do I mean by this?
If I am in HR, for example, I may talk about how I have improved retention or engagement.
If I am a marketer, for example, I may talk about how I have increased brand awareness.
If I am an accountant, for example, I may talk about how I have reduced risk and increased compliance.
This kind of detail and language will help you get picked up in the right searches, and make time-poor recruiters' lives easier.
b) You want to change your career
If you're changing roles/careers, write your profile slightly differently.
You may want to start with why you're making that career change or choice.
For example, if I was wanting to become a graphic designer I may start the summary section with something like this.
"At school you'd always find me madly sketching and drawing.
So studying graphic design seemed like the most natural thing in the world to do".
In this scenario try to talk about the value you'd like to create for an organisation you'd like to work for when you apply your new skills.
Take a look at this video below.
We filmed it for our myPitch android and iPhone app. This app shows you how to come up with a statement that helps you stand out for the roles that you are aiming for, yet have limited experience in.
c) You are looking to develop business opportunities using LinkedIn, perhaps as a consultant
This is a somewhat different approach to the one I describe above.
The focus of your profile summary should be firstly and primarily about the value you create for other people.
There are actually many ways to structure this.
However, here's how you can do this up front on your profile:
Ask questions of your audience in your profile summary section
Hone in on the specific challenges your customers/ clients may have
Evoke emotions they may feel before and after they use your service
Mimic the language your customers use
Try to identify your ideal customer in your opening question
Do all of this with as few words as possible
Here are a few examples of great openers that have worked well for my clients.
"Are you looking to partner with an Advisor who is as engaged in your success as you are?"
This chap is an accountant.
Many small businesses complain that their accountant is only there at tax time.
Yet accountants have unique insights into their clients' business. So clients of accountants are looking for someone who adopts a "partner like" approach to give them more guidance.
Do you see where I am heading with this?
Here's another example.
"Are you about to begin a large or complex data migration and scratching your head about the best place to start?"
This person has honed in on a pain point of his clients.
There are only a few people he works with at specific points of a project. He does not want to appeal to everyone. So he hits the jugular with the question he asks.
Here's another way to do this.
Catie is another client of mine who runs a wordpress business.
"My name is Catie Hughes and I am the Founder of Loud Cow.
What does Loud Cow do?
If you're the owner of a small to medium sized business and need to launch a website online, but have no idea where to start, and only a little cash in the kitty, we can help."
Catie identifies her ideal customer, what they're about to do, and the way that they may feel before they do it.
There is a reason the best copywriters get paid thousands of dollars.
They know they have very little time to capture the interest of an audience. They can achieve this in as few words as possible.
This brings me neatly to my next point.
2. Create an enticing LinkedIn headline that prompts people to click through to your profile.
Your LinkedIn headline is almost the most valuable piece of real estate you have on LinkedIn.
Most people don't realise this.
Here are four things you need to know about why this is not just crazy talk:
Your headline influences how people view the rest of your profile.
A powerful headline explaining how you can add value, or want to make a difference, can make you stand out in comparison to other people who just use their role title or list a few skills.
LinkedIn's search algorithm places great weight on key words in your headline.
Your LinkedIn headline can come up on Google when someone looks up your name on Google.
Have I convinced you yet?
I have seen many people squander this opportunity, with putting things like "seeking new opportunities"
Read this post to see why this does not work.
Watch this video to see what you can put in your LinkedIn profile headline to promote people to click through on your profile. I also cover how to manage your Google brand.
Here are a few examples of headlines to inspire you:
"Founder AboutYourData, Data Migration Specialist | Saving CIOs, CEOs & IT Project Managers from grey hairs & headaches"
"Enterprise Account Manager HERE | Proudly promoting mapping products to transform the way people see the world"
"Non-Executive Director, Executive Coach, Change Management Consultant, HR Strategist, Motivational Speaker, PhD, MBA"
Please note, in this last headline example, I specifically chose key words that would resonate with the target audience.
My client has a background in academia, and will be working in that space – so credentials are important.
3. Stand out using secret layout techniques by expert web copywriters.
It seems like many people just cut slabs of text from their resumes, without giving thought to whether people can actually read this on their profiles.
I have been known to describe this as a crime against copy writing.
However, this practice is actually worse than a simple visual mistake.
If you give no thought to the layout on the text on your profile, it means that you could miss out on opportunities that should be yours.
Your readers' eyes will glaze over with boredom.
One site I always refer to when writing profiles, is research by this mob: www.nngroup.com
They've been conducting research on the way people read the web since 1998.
Their research shows that almost 80% of people will only scan a new web page, and not read the full detail.
Only 16% will read websites word for word.
So, to get people to read what you write, you'll need to think about expressing your ideas in reverse pyramid style.
This means the most important idea at the very top.
Your written text needs to be easily scannable by the reader.
On LinkedIn this means:
Using bullet lists
Meaningful sub headings, explaining the information that's about to appear below (no place for fanciness or obscurity here)
Strictly only one idea per paragraph
Short sentences rule
The most important idea must be expressed in the first part of the paragraph.
The researchers have also found that credibility is important in enticing people to read.
So avoid boastful or exaggerated claims that you cannot support by facts. If you are too over the top people will stop reading.
If you're a word nerd like me, you can read the full readability research here.
Below is an example of a profile where I have applied these layout rules.
This profile has routinely won the owner new clients and interest from head hunters.
Along with the fact that it's easy to read, the owner also demonstrates detailed self-awareness. He knows who he is and what he can offer the market.
(The red sentence above is a comment on the sentence below)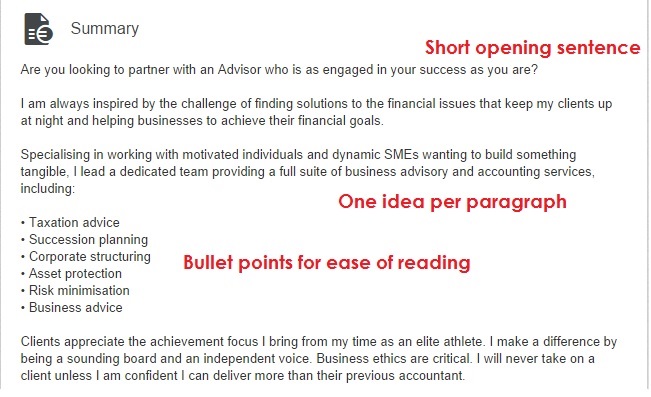 4. Use LinkedIn's visual tools to showcase your skills, achievements and experience
Many career experts will tell you that visuals are important.
But they will not tell you why.
I have been trying to track down the original 3M research that gets quoted all the time stating that we process images 60,000 times faster than words.
Unfortunately I cannot. So I am not going to quote this as a fact here.
However, marketers have known for years that we are very visual creatures.
That's why they'll use aspirational pictures on advertising. Or you see beautiful women draped over cars.
Our eyes are drawn to images.
Now, I'm not suggesting you employ that kind of advertising tactic on your LinkedIn profile.
However I do suggest you take advantage of features such as the top banner to illustrate something you cannot say with words.
A great example of a banner saying something interesting is this profile below.
Meet Candice, another lovely and talented client of mine.
Candice thinks I'm stalking her on LinkedIn as I show people her banner all the time.
LinkedIn contacted Candice and asked if they could use this as an example of best practice.
It's a really effective example of someone showing their thought-process and their work in action.

The banner presents unlimited opportunities to help you stand out.
Here's another great example.
So, imagine what you could illustrate if you were a Civil Engineer from overseas, for example.
You could show the treacherous terrain you worked in, or the very large commercial building where you worked as a project manager.
Instantly that gives real life context to your experience.
If we can see it, we believe it.
Have a look at this example below of someone who's been really smart about images. This appeared at the bottom of his experience section.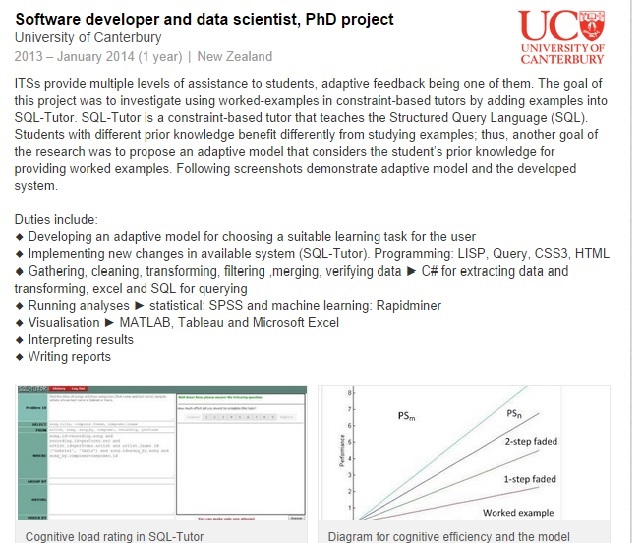 He's a data scientist.
Scientists love charts.
If I am a scientist, my eyes would be drawn to this section of his profile and I would be looking at this bit with a great deal of interest.
LinkedIn is introducing new features all the time, to make it easy to understand and connect with you.
They are giving you many great tools to create powerful career portfolios.
Keep an eye on their updates and think about how these sections can increase your credibility, explain your ideas, or create an image of you as a competent professional.
5.Write a clickable status update that entices your audience to take a look at your profile.
Our research shows that 90% of people do not manually update their status on LinkedIn.
This is crazy behaviour.
Every time you do this (WELL), you showcase your expertise in a different way to the world.
You are defining who you are, by the value you want to add to your audience.
Here's a great example to show you what I mean.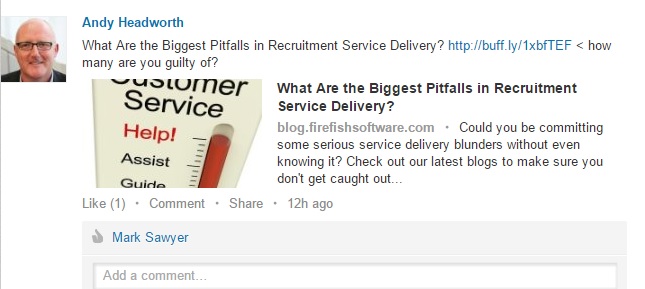 If this question appeals to me, I am going to do three things.
Check out the article.
Check the credentials of the person who wrote it.
Seek to connect with him as his work is of interest to me, and mention I have read the article.
That's the end of my tips.
I do hope you find them useful.
Now I know many people struggle to implement these tips and write a powerful profile. If you want find a job using LinkedIn, in an increasingly crowded market – here's what you need to do if you need extra help.
Let us take the pain of LinkedIn away from you, and help you be found by employers, recruiters and headhunters. Check out our LinkedIn profile optimisation service here.